Johannesburg's Best Outdoor Spaces
A walking tour
The City of Gold can be daunting for pedestrians. Unlike Paris or New York – cities where you can amble out of an underground train station and wander off in any direction – in Joburg it's best to know where you're going, or at least to have your wits firmly about you before setting off.
And while Joburg does have wonderful outdoor spaces with pretty landscaping and prominent public art, you have to know where to find these spots. Otherwise it's easy to get lost in a sea of concrete, minibus taxis, and overflowing rubbish bins.
It takes some time and effort – and a bit of bravery – to discover Joburg's outdoor secrets on foot. But once you're in on those secrets you become part of an exclusive group of Jozi-loving foot soldiers.
These five downtown outdoor spaces, all within easy walking distance of each other, are a good place to start.
1) Newtown Graffiti Pillars
Newtown is a great place to begin a walking tour of downtown Joburg, due to ample parking below the Newtown Junction Shopping Centre. To find the graffiti pillars, take the escalator from the parking garage into the mall and exit through the mall's back door.
I don't know exactly when the concrete pillars holding up the M1 highway in Newtown became covered in graffiti. The graffiti started on the pillars around the intersection of Gwi Gwi Mrwebi and Henry Nxumalo Streets, but as the years pass it spreads further in every direction, jumping from the pillars to the surrounding buildings.
The murals constantly change as artists paint over old work to create new masterpieces. Every year in April, during the Back to the City hip-hop festival, scaffolding appears so artists can climb the pillars and paint them from top to bottom.
In 2013, as the massive Newtown Junction Centre was built, the area around the pillars became a construction zone. Piles of old bricks were strewn among the graffiti murals. The area was choked with building equipment and noisy dump trucks.
I feared this outdoor art exhibition wouldn't survive. But the shopping mall developers left the graffiti alone, and today it's more ubiquitous than ever. Looking downhill from the north end of Henry Nxumalo Street, the riotous painted pillars appear to stretch into infinity.
Despite this area's dodgy reputation, the Newtown pillars and surrounding streets have become popular for tourism and photography. It's common to see engaged couples wandering among the columns on Saturday afternoons, trailed by their wedding photographers, and groups of tourists snapping pictures with their phones. I myself have posted many an Instagram from the Newtown pillars.
2) Chancellor House
From the Newtown pillars, cut across Mary Fitzgerald Square to Miriam Makeba Street. Walk four blocks south on Miriam Makeba, turn left on Fox Street, and walk one block until you see the Shadow Boxer sculpture.
Chancellor House was the site of Nelson Mandela and Oliver Tambo's first law firm – the only non-white firm in Joburg when it opened in the 1950s. Mandela left Chancellor House in 1960 and the building, which is across the street from the Johannesburg Central Magistrate Court, eventually slid into disrepair along with much of the inner city.
The Johannesburg Development Agency began renovating Chancellor House in 2010, and today the building is a monument to the struggle against apartheid. Chancellor House's ground-floor windows are an outdoor museum, filled with placards and old photos documenting Mandela and Tambo's legal work, the 1956 Treason Trial, Tambo's flight into exile, and Mandela's eventual imprisonment.
Across the street looms one of Joburg's most striking pieces of public art. The Shadow Boxer, by sculptor Marco Cianfanelli, depicts a famous photo by Bob Gosani of Mandela as an amateur boxer.
The sculpture has a flat, photo-like quality when viewed straight on, like a two-dimensional object superimposed over a three-dimensional background. When viewed from the side the sculpture reveals multiple layers of metal – gray over black over red.
I can't count how many passersby I've watched standing beneath this statue, posing for photos in a boxing-pose mimic.
On 6 December 2013, the day after Mandela died, I went to Chancellor House to pay my respects. There weren't many people there – far fewer than the hordes who crowded Sandton's Nelson Mandela Square and the Mandela home in Houghton – but it was nice to see a few flowers and South African flags poking out between the metal layers of the Shadow Boxer's legs.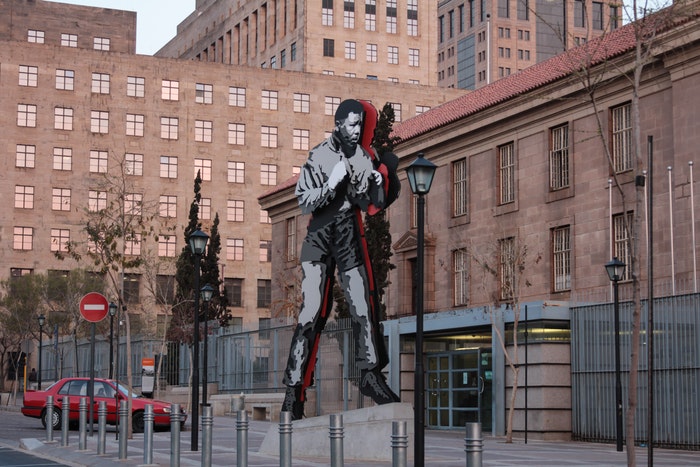 3) Main Street Mining District
The Main Street Mining District is a quick hop from Chancellor House. Facing the Shadow Boxer, turn left and walk half a block down Fox Street to Ntemi Piliso Street. Cross the street, turn right, then immediately left onto Main Street, which is pedestrianised for the next two blocks.
When I started to get brave and explore the inner city, the Main Street Mining District was one of the first places I went. Historic home to South Africa's mining companies and designed specifically for pedestrians, this section of Joburg is perfect to explore on foot.
The district starts at the corner of Main Street and Ntemi Piliso Street, where the Art-Deco Anglo American building stands protected by a dignified lioness statue. Across the sidewalk is the iconic Impala Stampede sculpture, which has a fountain arching beneath it on weekdays.
Anglo American's best kept secret is a group of feral (but well-cared-for) cats living on the grassy area next to the building. The cats are invisible during the day but magically appear at dusk, preening and posing for pictures near the Anglo American front entrance.
Heading east along Main Street toward the Chamber of Mines, visitors can admire a huge, retired mining headgear from the Rustenberg Platinum Mines. The street is flanked by old photos of late-19th-century downtown Johannesburg, when the city was no more than a grungy mining camp.
Further up the street, in front of the soaring Standard Bank Centre at the corner of Main and Simmonds, stands a perfect replica of the Golden Rhinoceros of Mapungubwe. (The rhino is a bit above eye level, so look up if you can't find it.) The real golden rhino, discovered in 1932 near the South African border with Zimbabwe and Botswana, has become a symbol of South Africa's sophisticated pre-colonial civilization.
Like the cats at Anglo American, the Mining District's golden rhino is best viewed at dusk.
4) Gandhi Square
To reach Gandhi Square from the Main Street Mining District, continue walking east on Main Street for a couple of blocks until the street is interrupted by a massive square. 
Gandhi Square, Joburg's main Metrobus terminus, fills four square blocks bordered by Rissik Street, Fox Street, Eloff Street, and Marshall Street. Formerly called Van Der Bijl Square, the bus terminus was revamped by property developer Gerald Olitzki in the 1990s and completed in 2002.
The refurbishment of Gandhi Square was one of the first signs of 21st-century renewal in the inner city. Bars, restaurants, and banks line the square; travellers and commuters wander to and fro with briefcases, backpacks, and rolling suitcases.
Mahatma Gandhi, who lived in South Africa from 1893 to 1914, once had his legal offices on this square. Hence, his statue here is one of the few Gandhi monuments depicting him in lawyer's robes.
The statue is surrounded by benches, often full of pedestrians stopping for a rest. The occupants stare at me with bemusement as I circle the statue in pursuit of the perfect Gandhi shot. I love photographing this statue from below: The silhouette of young Gandhi appears to lean down toward me, surrounded by skyscrapers.
5) Ernest Oppenheimer Park
Ernest Oppenheimer Park, the final stop, is three-and-a-half blocks from Gandhi Square. Head north on Rissik Street, across Fox and Commissioner, to the old Rissik Street Post office at the corner of Albertina Sisulu Road. Ernest Oppenheimer Park is behind the post office on Albertina Sisulu. (The park does not appear on Google Maps.)
The Impala Stampede sculpture, which now stands in the Main Street Mining District, was originally erected in Ernest Oppenheimer Park. But when the city declined in the 1980s and 1990s, this tiny park went with it. The statue was badly vandalized and the impalas' heads were stolen. The statue was rescued and restored – the heads re-attached – and moved to Anglo American. Ernest Oppenheimer Park became a sad reminder of the city's decay.
In 2010, Ernest Oppenheimer Park underwent a stunning renovation. The city installed park benches with colorful backrests reading, "Egoli: You Make My Dreams Come True" and "Jozi: Nothing Is Impossible". There are gardens planted with indigenous trees and a giant statue of the Oppenheimer Diamond. The park has a basketball court, one of the only ones in downtown Joburg, which is always busy with pickup games.
Best of all, Ernest Oppenheimer Park has a new impala sculpture. The work isn't as dramatic as its predecessor; it's made of cast-iron rather than bronze, and the impala are sitting and standing rather than leaping, their large ears fanning out playfully.
I like the new Ernest Oppenheimer impala sculpture even better than the old one. This artwork is stronger and sturdier, designed with the realities of modern-day Joburg in mind. I can look these iron impalas straight in the eyes and see into their imaginary souls, with the sounds of pickup basketball behind them.
Ernest Oppenheimer Park isn't perfect. There's more litter than I'd like to see, and on my most recent visit I noticed one cast-iron baby impala ear was missing. But at the same time this park proves to me, as the bench near the entrance says, that in Jozi, nothing is impossible.
At this point you'll be tired and the walk back to Newtown is longer than the other walks. I recommend catching an Uber to Newtown Junction.
Tips for walking in downtown Joburg
1) Know your route before you walk. Most downtown Joburg streets are safe, but some are best avoided. Ask for advice from someone who knows the city.
2) Walk in pairs or groups, or book a tour with JoburgPlaces or Past Experiences. Both companies offer fantastic cultural and historical walking tours of the inner city.
3) Walk with confidence and be aware of your surroundings. Smile and greet your fellow pedestrians.
4) Don't look at your phone while walking. Not only does this make you vulnerable to theft, but it also increases the risk of falling into one of Joburg's many open manholes.
5) Take care when crossing the street. Joburg drivers, especially taxi drivers, are notorious for disobeying traffic signals.
6) Keep an open mind.
Link to map here.
---
Words and images by: Heather Mason,
of 2Summers blog