Hidden Gems: Lanseria and Muldersdrift
Off the beaten track
in Lanseria and Muldersdrift
CULINARY TABLE
You've probably driven past it twenty times without the faintest inkling it was there. Set within an industrial development (The Lanseria Centre) that borders Lanseria Airport, Culinary Table hides in plain sight. "Strange location" I hear you utter, well there's a story behind that...
It began, and still is, a culinary equipment showroom, Executive Chef Daniela Gutstadt, daughter of owner Wehrner Gutstadt explains "The idea happened as a natural progression from our demonstration kitchen in the showroom - we'd constantly use the kitchen to test and demonstrate the equipment so it became the norm to have ingredients stocked in the fridge, and the result was the daily accumulation and consumption of really delicious food."

In 2013 they transformed a portion of the showroom into a sixty-seater restaurant. Word of their culinary prowess quickly spread and further expansion became a necessity. So they tripled the volume creating a plush 180 seater with an adjoining butchery, bakery and deli as well as an outside dining area framed by a weaving maze of gardens and greenhouses where they grow the majority of vegetables for their menu.

For you see, this isn't just another restaurant; Daniela and her father wanted to create a holistic restaurant offering where they could celebrate their shared passion for seasonality, traceability, sustainability, top-quality free-range ingredients and a nose-to-tail ethos of cooking.
Everything is made from scratch making it a totally immersive, theatrical dining experience. The kitchen is completely open-plan and divided into various artisanal stations: pasta, bread-making and pastry sections where you'll encounter croissant pastry being folded between layers of farm butter and pasta dough being rolled, the butchery where you'll see sausages, salami and biltong being made, different cuts of beef and lamb being prepared and hung in their dry-aging cold room, and the main kitchen where you'll witness frying, braising, sous vide and even smoking and braaing in their charcoal-powered Josper oven.
The breakfast menu has all the traditional favourites executed to perfection: think French toast, Eggs Benedict, shakshuka, steak egg and chips, waffles and smoked trout rostis. The lunch menu changes weekly depending on what's available and fresh from their garden. Daniela has a passion for doing things properly, authenticity is the key,
"When we make a curry we use whole spices that we grind ourselves, we cut the meat on the bone to incorporate as much flavour as possible and simmer the curry for hours...everything down to the sambals is made with integrity."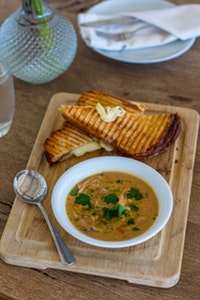 Their lunch menu is an amalgamation of provincial European dishes and street-side café fare. Standout dishes include their moule frites, braised oxtail, pulled lamb neck ragu, gourmet burgers and steaks served with downright delectable hand-cut parmesan fries, and a simple but salacious soup of the day accompanied by a grilled three cheese sandwich - it's to die for. They're also renowned for their family-style roasts served on weekends: slow-cooked lamb shoulder with gravy and mint sauce, herb-butter rotisserie chickens and whole silver fish roasted in the wood-fired oven with lemon and thyme. I ask Daniela if people know the lengths they go to make each dish and she smiles and responds, "I don't think people realise the full extent of our efforts, but that doesn't matter because we'd do it anyway.
And the pièce de résistance: whilst you're there you can order a box bursting with organic veggies picked fresh from their gardens for R150.
For more information, visit Culinary Table's website.
BIDON BISTRO
It's a wonderfully eclectic mix of mismatched furniture and topsy-turvy structures intermingled with water features and rolling lawns, all set against a backdrop of The Cradle of Humankind. It's a quirky 'roadside country restaurant' that happened by accident, but now plays host to hundreds of eager cyclists and day-trippers every weekend.
Owner Garth Mes had the farm for thirty years before deciding to take on a small restaurant venture. He took a year off work and with the help of a few builders and some YouTube videos they constructed a 50 seater eatery. But it snowballed: visitor numbers skyrocketed and they had to build on a deli and quadruple the seating just to cope.

Garth's as down to earth as they come and refreshingly honest about their creation, "Our food is good, it's really good, but sometimes the service can be lacking - it's not that it's bad, it just gets so busy: when a hundred people walk in at the same time things can be slow and people get frustrated, but as soon as they taste the food all is forgiven."


And it's not just the food that draws in the crowds, it's the setting. It's the epitome of tranquil, laidback and care-free.
Kids are free to run amuck whilst parents put their feet up. It's the perfect rough and tumble escape from the city: close enough not to be a tiresome excursion, but far away enough to feel like you've had a break from it all.

Garth takes me into the kitchen to meet all the chefs, I shake their hands and they each talk me through their responsibilities. Each individual takes such pride in what they do, there's love in their cooking and you can taste it.

Their breakfasts and their pizzas are their main attraction. Thulani, their award-winning pizza chef was trained by an Italian chef and his pizzas are superb: thin crusted, slightly charred around the edges with stretchingly-good mozzarella and heaps of toppings. On the breakfast front their eggs Benedict is both delicious and surprising: a potato rosti topped with gypsy ham, brie cheese, poached eggs and hollandaise - I thought it would be too rich, but it absolutely works.

Other delights include pumpkin fritters with poached eggs, avo and turmeric oil, an oven-baked breakfast bowl, freshly-baked scones, omelettes and a seriously decadent breakfast calzone.
So take a detour one of these weekends; meander off the beaten track, slow down, take a moment to smell the flowers and get a taste for Joburg's countryside... you won't regret it.
Visit Bidon Bistro's website to find out more.
---
Story and images by: Kate Liquorish