Hidden Gems: Holes-in-the-Wall
FISH HOOK
I've just eaten the best fish 'n chips that Joburg has to offer - to be honest, it rivals some of the best in Cape Town. What's even more flabbergasting is that it's been around for 9 years, is just 5km from my apartment and I had no idea it existed. Such is life I guess.

 It's a hole-in-the-wall-style fish and chip shop called Fish Hook (just off Republic Road on the corner of Republic and 1st Avenue between Linden and Randburg). The centre itself is not much to look at: it's a mini strip mall with a butchery, a grocer and a few other bits and bobs. In the midst of it all you'll find Fish Hook, signposted in bright colours and punctuated by the statement: 'Traditional Fish and Chips'.
You walk inside to find a counter framed by a single bench and an ice cream freezer. From behind the counter you're met by the sage smile of owner Welman Son. He's a gentleman; polite and soft-spoken - he's run the place since it opened in 2009, and I don't imagine much has changed since then.

I ask him about his famed hake and chips and he smiles and tells me, "Everything is freshly-prepared on a daily basis, the chips are made from scratch (we go through 5 tons of potatoes a month) and the batter (he chuckles)..."
"I've had chefs come in here and try to buy my recipe, but it's my best kept secret..."
He pins his success on the fact that he's so hands on: opening and closing the shop 6 days a week and working 10 hour days to ensure the standards he's set are kept.

I order a large hake and crispy chips and his eyebrows lift, "You sharing that with someone?" I laugh and reply, "Yes." He nods and moves back into the kitchen to start on my order.

Welman is actually a qualified butcher, ironic then that he found his niche in fish. He tells me that people love coming back because he offers great value for money, the best quality fish and chips and his service is good (I can vouch that it comes with a smile). He says that when it gets really busy he tries his best to keep people happy whilst they're waiting, but that that's where it can falter a little (because boy can it get busy).
He passes me my paper-wrapped fish and chips; I open it and break off a little section of hake: the batter is perfectly crisp and light as a feather; just enough to give the steaming-hot fish a layer of irresistible crunch. I dip a salt and vinegar lathered chip in tartar sauce - delicious! And to sit outside at a plastic table with a friend and get stuck into a paper parcel filled with goodness using nothing but your hands - sheer bliss.

The large fish and chips (which is plenty for two) will set you back R66.

Go here for more information
---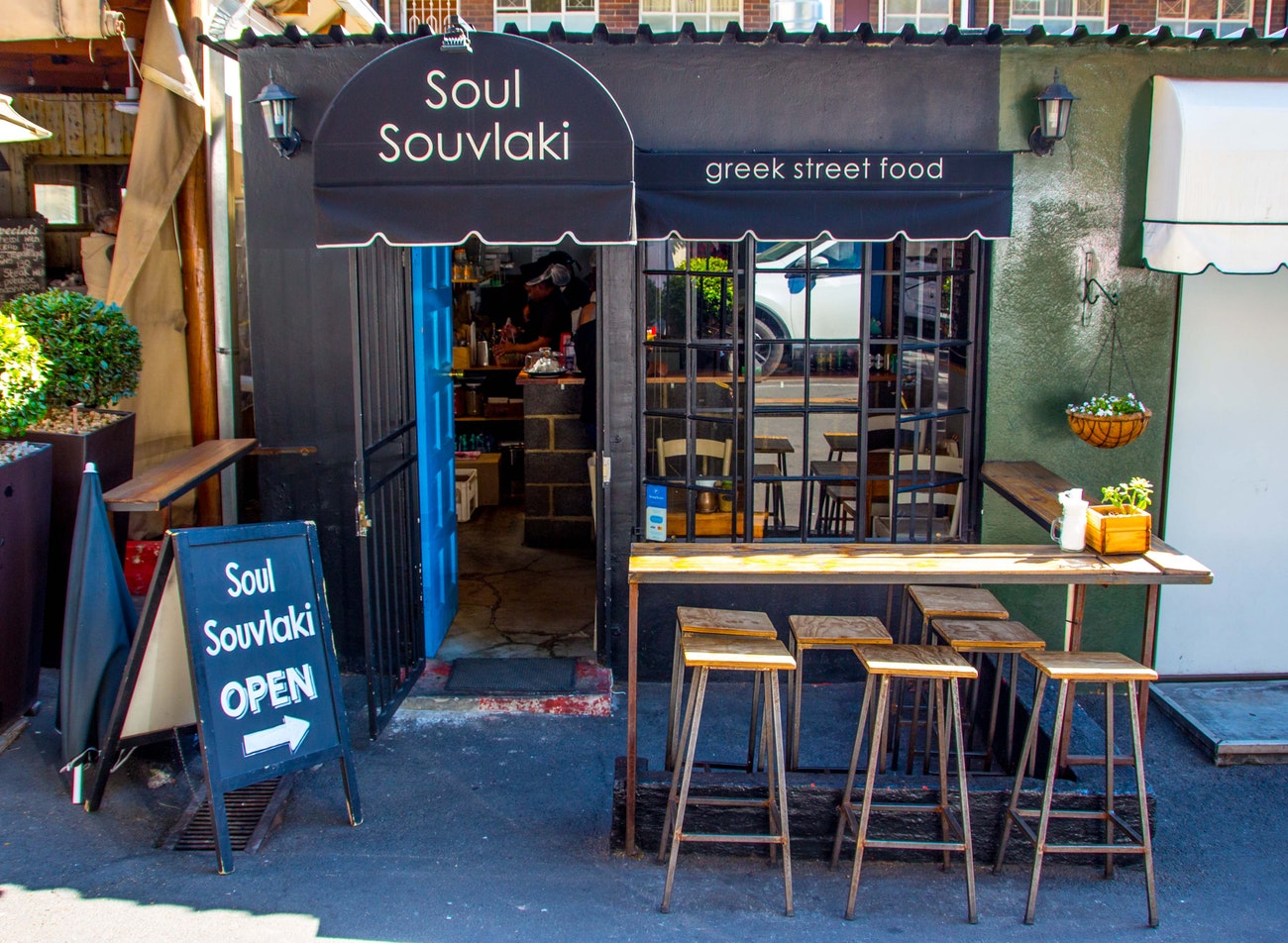 Soul Souvlaki is another tiny wonder. Set between Moda and Yung Chen Chinese Restaurant in Shepherd's Market in Craighall, and taking up no more than about 15m², it's not what you'd call an ideal setting for a restaurant, but it's more of a top-notch takeaway joint. And in terms of quality and flavour, it's up there with the best Greek restaurants in the city.

Owner Dino Vlachos' inspiration came from the source, "You'll find street food like souvlaki and gyro on virtually every corner in Greece, so everywhere you go, if you want a quick bite to eat, souvlaki is your go-to meal." Dino's always been involved in the food industry, mainly coffee shops and sandwich bars, but it was on holiday 10 years ago that the penny dropped, "I was visiting a friend in Athens and he ordered takeout from a place down the road (bear in mind the definition of 'takeout' in South Africa 10 years ago was, in general terms, McDonalds, Steers and KFC), but when this meal arrived and you had a bite, it was like your mother had made it, and it made me realise that there was no reason we couldn't have delicious takeaway food here - all it takes is quality ingredients."
As the name suggests the main attraction is the souvlaki (chicken, lamb, beef or haloumi cooked on the grill and served in a warm pita with tzatziki, tomato, red onion, rocket and fresh chilli), but the assortment of meze, dips, skewers and their signature bifteki are just as good. And you can't beat the prices - right now a chicken souvlaki is R49. I ask Dino about his affordable menu and we have a good laugh venting about the extortionate tapas and sharing-plate fad that's taken over Joburg, "I also get irritated when I get one bite of something and it's R80, so I try as far as possible never to overcharge. Obviously you've got to make your margins, but you shouldn't have to pay an arm and a leg for something simple.
"I often have people telling me that I should mark it up more, but I won"t - I don't think you should charge more than you have to."
And the food really is fantastic. My personal favourites are the chicken souvlaki, the grilled chilli feta (feta wrapped up in foil with herbs and chilli and grilled to perfection) and the bifteki...Bifteki? It's like a Greek version of a burger, served with pita bread, tzatziki and their delicious Aegean slaw, Dino goes into detail, 'The basis of that recipe is from my grandmother - the flavour was just so different and delicious, so I've taken that recipe and adapted it slightly to work with a South African palate: added things like chilli, feta, Italian parsley...'
I ask Dino a little more about his culinary background and he smiles, "I'm not a chef, I'm a cook - I just love cooking. When I was at home, I'd learn certain dishes from my mom and then take that home and try to perfect it, not like your mama of course, cause you'll never make it quite like her (he laughs), but that's the inspiration behind it." Dino teaches his staff the recipes, but the emphasis is always on cooking by feel rather than by precise measurement, "That way there'll always be slight variations to the dishes, but the idea is that you'll have the same flavour. There's no centralised kitchen and that's the point - the beauty of home-cooking lies in imperfection, in being handmade."

Go here for more information.
---
Words and images by: Kate Liquorish