Businesses that #doDifferent: Güdco
What THEY #doDifferent

We spoke to Ruan Coetzee, the founder of Güdco, about starting a for good business and what he's learnt in the process.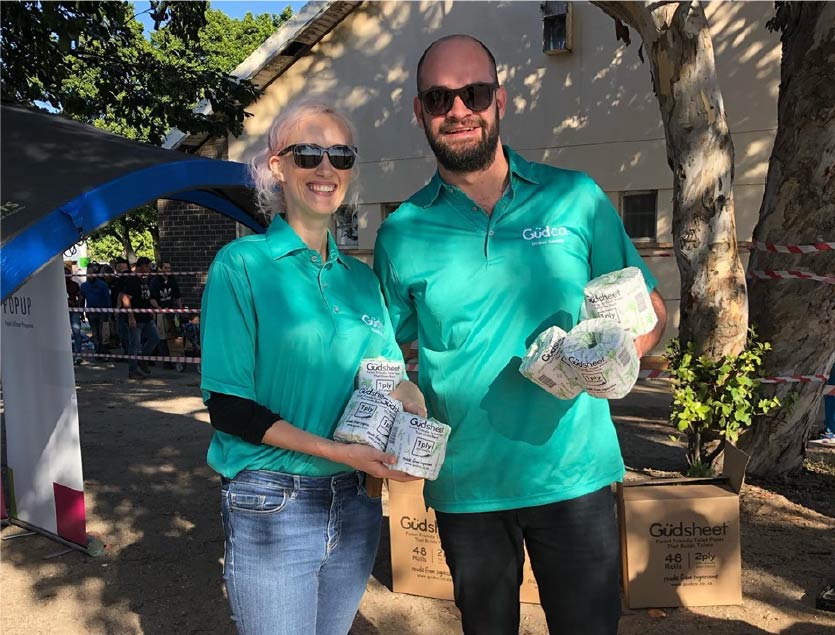 Please tell us a bit more about your business and what it does.
We are Güdco, a company that sells plastic free toilet paper made from sugarcane. The toilet paper is called Güdsheet and the proceeds from sales help provide toilets and toilet paper to underprivileged schools and creches in need.
We believe that most people want to help those less fortunate, they just might not have the time or means to do so. Güdco products provide an easy and convenient way for you to help.

What motivated you to start it?
I was moved to learn that thousands of school children in South Africa, especially in the Eastern Cape, don't have access to toilets, or even toilet paper. I decided to register Güdco (Pty) Ltd in 2015 - with the aim of selling toilet paper to generate funds to help build toilets.
After two years of research and product development, we established The Eastern Cape Water and Sanitation Development Trust, trading as The Güd Foundation in 2017. We also started trading in that year. We believe that sanitation, water security, environmental and social sustainability are everyone's responsibility and that we can end this problem by means of consumer-driven philanthropy. For every roll of Güdsheet sold, we donate a portion of the proceeds to help build toilets for underprivileged schools and creches in need.
Why toilets and toilet paper? Because it provides dignity, health and an improved quality of life.

What have you learnt about running a business along the way?
Running a business is like raising a child. You have to be willing to feed and change its nappies in the baby years. It's not easy in the beginning, but it is really rewarding to see it grow and become the business you've always dreamt it would be.

What is one of your triumphs in starting this business?
Every step you take is a triumph in its own way. Deciding on a name. Registering the business. Developing your products. Opening accounts. Building your website and trying to build the brand etc. No matter how big or small, just as long as you're taking steps in the right direction. Sometimes you take three steps back, just to take another big leap forward.
I remember visiting close to 30 different suppliers across South Africa. After going around in circles, we ended up with one of the very first suppliers we met with. Today, Güdco is a socially and environmentally conscious company that prides itself in supplying good-quality products. We will always challenge our suppliers to embrace our principles and follow suit. A big triumph for me was seeing the final product for the first time and, of course, receiving our first big order and giving back.

What advice do you have for anyone who would like to start a business that helps facilitate social change?
Go for it! The only advice I can give is that you have to let go of the egotistical bragging factor surrounding products that facilitate change. It's not about you. It's about the people and the cause you intend to serve. People identify emotionally, politically and personally with ethically sourced products that help facilitate social change. It's not an easy journey, but I will continue promoting sustainable, ethical consumerism for good.

What words/motto/quote do you live by or gain inspiration from?
"It's in our hands to create a better world for all who live in it" - Anonymous.
"It always seems impossible until it's done" - Nelson Mandela
"Bad sheet happens. Just flush it and move on" -
Güdco
.
---
Brought to you by:
Different Life
Images credit:
Güdco