Food Conveys Culture in Fordsburg

These days, Fordsburg is considered a meeting place of a variety of different cultures, religions, nationalities and ethnicities - but it wasn't always this way. One identity marker that predates the South East Asian and Muslim influence in the area is the status of the region as a working-class area. That hasn't changed since 1888, when the suburb was demarcated for development by the Randlords.


But the types of working class people that animate Fordsburg are black and brown now - instead of white Jewish and Lebanese people as it was pre-apartheid.

By the mid-1900s in Fordsburg, community halls, prayer facilities, temples were already in existence in Fordsburg and the space was cemented as Indian in character. However, by the time the Group Areas Act of 1950, Fietas and Fordsburg were strongly defended as whites-only areas by the government and most of the people racialised as Coloured, Indian and African were forcibly relocated to different township areas on the outskirts of the city.

Although today Fordsburg's hospitality is extended to all people - and the area is a confluence of various ethnicities and nationalities - the historical legacy of the place being an Indian area is strongly felt today. In the democratic era, there has been an influx of Muslim traders and business people from South-East Asia and other African countries, and when one walks around Fordsburg there's a real sense of multiculturalism and community.

Exploring and understanding the culture of the space through the lens of food makes for a delicious and informative time. Eating food is an intimate act, even more so when you're eating with your hands. Granted, I haven't eaten at every take-away or coffee shop in the area, but here are some of my favourite places to get a sweet treat or hearty meal in Fordsburg.
The architecture at Divine bakery has a long and complex history.
---
DIVINE BAKERY
My first stop was Divine Bakery. Rasheed Ebrahim, owner of Divine Bakery, told me the story of how his family relocated to Fordsburg after being forcibly removed from Sophiatown, and how he ended up owning a bakery in an old Lebanese church on Mint street. The cuisine that has developed - and what many know Fordsburg for - comes from these lived experiences and histories.

Take for example, the bakery. The space is cathedral-like, because it was a grand Lebanese church. However, the Lebanese moved to a new church when the government blew off the bell tower of the original structure, as part of their offensive on striking miners.The Rand Revolt of 1922 was significant to the political history of Fordsburg. "When that strike happened in what was known as the Red Square in the [Oriental] Plaza, the government of the day sent planes to shoot at the miners who were striking. The bell tower of the building was blown off by them. And then the Lebanese had to move out of here and the government built them a new church down the road," Ebrahim explained.

Then, many years later in 2000, Ebrahim bought the place and tried to maintain the original church structure as much as possible. The koeksusters at Divine Bakery are as affordable (at R5) as they are delicious. The biscuits, going for around R75/kg are moreish - with hints of coconut and butter shining through subtly. The Bakery also boasts a coffee shop inside, so you can grab a latte while admiring the church architecture.
---
SHALIMAR DELIGHTS
A sweet shop like no other, Shalimar Delights started in Lenasia in 1992 at first, and quickly branched out to Fordsburg. It was a small tea-shop, and when realising how popular the traditionally made Indian and Pakistani sweetmeats were, expanded into the sweet shop you can find on the corner of Central Road in Fordsburg. When speaking to Humain Jelani, the son of Javed Jelani who started the franchise, one gets a sense of how much this is a family business that operates on trust, quality and relationships with the people of Fordsburg. Some of the more interesting and popular sweetmeats they sell are halwa, burfi (the pistachio one is beautifully flavoured) and chana magaj. At R160/per kg, their prices are reasonable and their staff is friendly and willing to suggest the best sweets based on your taste preference.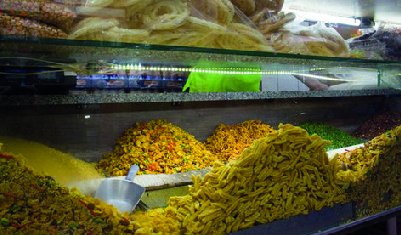 ---
DOSA HUT
Dosa Hut is a Joburg gem that specialises in South Indian food. I grew up eating food from the south of India, so my expectations were pretty high - and they were met. Their menu covers all the bases for South Indian cuisine - thalis, dosas and special dishes from Kerala and Mysore. Their South Asian Speciality Tea is affordable and warming, and the paneer thali - my go-to - can satisfy two people and at R84 is a steal for the amount and quality of food you receive. The dosa's are a little bit on the greasy side, but the slightly sweet starter comes in many variations - Ghee roasted, masala, podi, mushroom... the list is endless. You won't readily find samoosas here - and that's a good thing because there's so much more to South Asian cuisine!
---
WELCOME BAKERY
Welcome Bakery, although small, punches above its weight. Ali Jodd, the owner, oversees the fresh variety of sweetmeats and baked goods in store. At R80/kg, their prices are better than most sweet shops, and they don't skimp on quality. The jalebis are Durban-quality - in fact, Jodd's brother runs a similar establishment in Phoenix, an Indian township outside Durban. The bakery started only a year ago but Jodd has been living in Fordsburg for the past ten years and is originally from Pakistan. Coming to Jo'burg made perfect financial sense to him, and his brother encouraged the move, as he had already set-up shop in Durban. You can find another Welcome Bakery and sweet shop in Laudium, outside Pretoria.
---
BISMILLAH RESTAURANT
When Jababul and Rokeya Hoque came to South Africa from Karachi, in the mid-1990s, they dreamt of providing for their family through doing what they both loved - making food. Bismillah Restaurant has gone from strength to strength, since opening a small take-away in 1997 in Fordsburg. They have branched out into two restaurants and one community hall in Fordsburg, one restaurant in Laudium and two in Cape Town. The restaurant features South-East Asian cuisine - mainly from Pakistan, Bangladesh and South-east India. The creamy curries are will satisfy meat-lovers and vegetarians alike. The dhal makhni and mutton bunny are some of the stand-out dishes - and the lassi's [milkshakes] are refreshing, and a sweet way to end a meal.

Secure parking is available at the Oriental Plaza, and all of of these locations, barring Bismillah, are a 3-5 minute walk from the Plaza. Please remember it's Ramadaan, and many shops close for prayers - check online for prayer times. Also, there's a Fordsburg Walking Food Tour on 16th June.
---
Words and images by: Youlendree Appasamy