#doDifferent Today to Change Tomorrow
By 2050, there will be more plastic in our oceans than fish, unless we change the way we consume. By choosing sustainable packaging such as glass, we can be part of the change and give our oceans a chance to recover. It's a simple choice that can lead to oceans of change. Glass is completely natural. It takes nothing away from the environment and leaves nothing harmful behind. So by making better choices today, we can create a better tomorrow, which is why this week, we are looking at a well-known business that is putting forward a campaign to change the way we consume plastic and #doDifferent in the interim.
As a proudly South African business, Consol Glass is committed to embracing opportunities that come their way and making a meaningful difference to some of South Africa's disadvantaged communities and environment. They strive to not only produce glass products to the highest standards of quality and style but also to invest in the communities around us whilst positively changing the way we think about how we use their products.
Not only do they allocate 1% of all after-tax earnings to funding projects that can make a real and sustainable difference to South Africa's disadvantaged communities, but Consol Glass has also developed their I CHANGED 2050 campaign, to encourage the switch from single-use plastic to reusable material, such as glass. They have created a range of three on-trend, glass bottles, each carrying the line I CHANGED 2050. This message serves as a simple yet powerful declaration of commitment to ensuring a sustainable future for our oceans. To further their commitment, they are donating 10% of each bottle sold to sea life conservation.
Consol Glass, along with Clean C, has taken on an active role and has hosted, and participated, in environmental clean-up days. Between Cape Town and KwaZulu-Natal, they have hosted 121 cleanups and collected 2479 bags of litter - meaning that they have prevented over 10 000kgs of waste from polluting the oceans, which is incredible. They will also be running education drives to clean local community rivers, which ultimately feed back to the oceans.
Consol Glass also believes that recycling is an important part of waste management so they have partnered with Imagined Earth to place 10 Reverse Vending Machines(RVMs) in strategic locations in Cape Town, Johannesburg and Tshwane. These RVMs reward people for recycling their packaging waste which includes all materials like cans, plastics, tetrapak and glass. Consol Glass will also donate R2.50 to the Two Oceans Aquarium's Turtle Rehabilitation programme for every glass item recycled through the RVMs.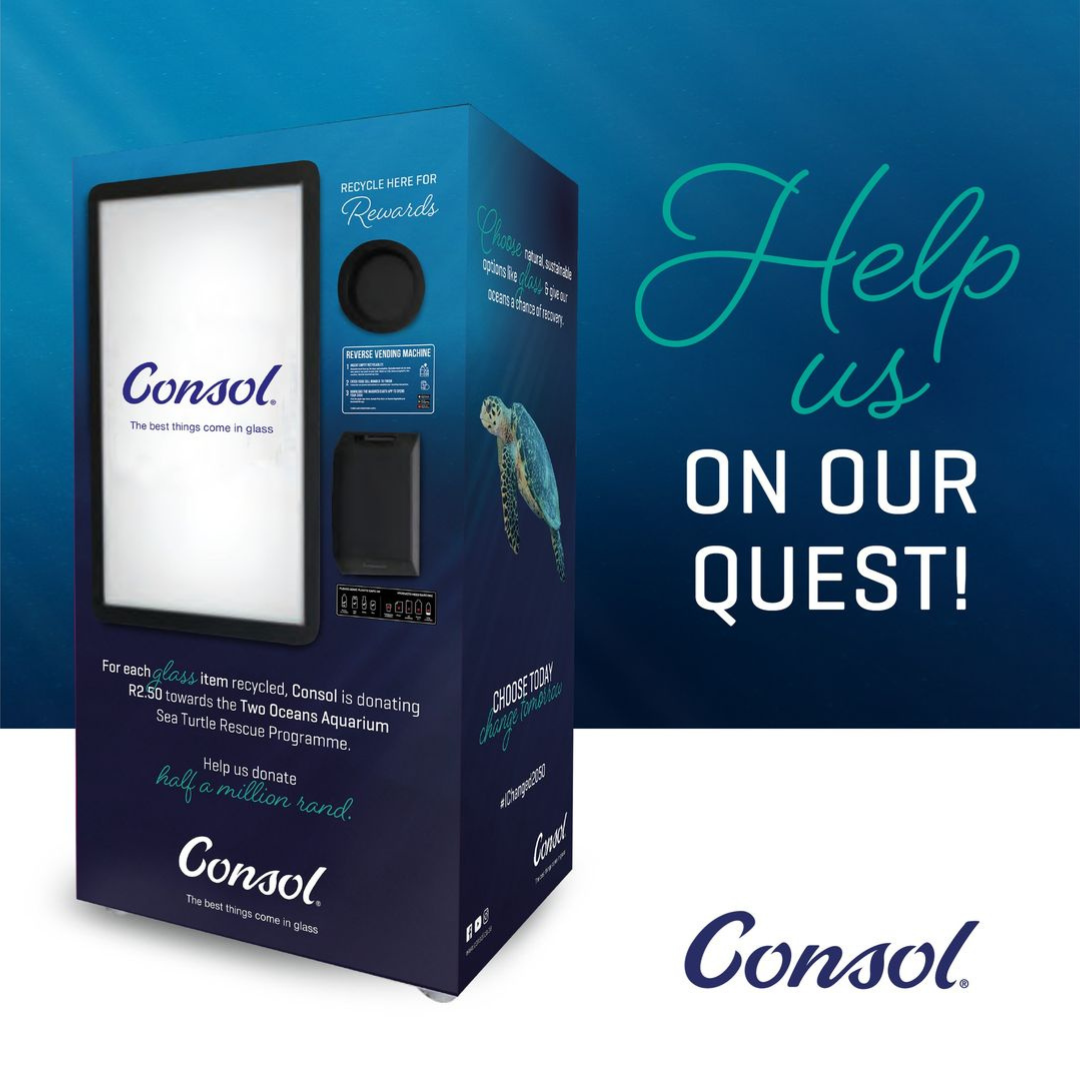 By choosing glass, you're choosing sustainability - a simple act that can lead to oceans of change. So why not pop down to your local Consol store, or visit their online store, and purchase one of their I CHANGED 2050 bottles to join them as they #doDifferent for our oceans and conservation.
Visit them here.
---