Breezeblock
a (Benoni-inspired) neighbourhood cafe' in Brixton
For some, breezeblocks conjure up memories of 70s suburbia – a time when neighbours weren't hidden behind high walls and life was lived at a much more sedate pace. Breezeblock, Brixton's new neighbourhood café, is a bit of a remixed tribute to all that's good about 70s suburbia. It has a laid-back, welcoming vibe – the kind that makes it hard to just pop in for a quick coffee – it warrants staying a little while longer.
Part of Breezeblock's uncontrived charm is its design, which was done by artist Justin Brett. It seems that a lot of thought and effort went into everything - from the choice of crockery to the sculptural wall behind the water feature. It's the antithesis of a shopping mall restaurant - and you definitely won't find any stage-prop type decor here. Owner David du Preez says that they scoured reclaim yards in the south, west and east of Jo'burg looking for things they loved. Often, these things were things that had been discarded by others because they were no longer popular. But these once-discarded things come together beautifully in Breezeblock.
Everyone who is part of the Breezeblock team seems to be glad to be there - which is another reason you might enjoy going there. Some of team members joined the team after being recruited by their relatives who had worked on the building team during the renovation of 29 Chiswick, the mixed purpose building that houses Breezeblock.
29 Chiswick was designed by architect Thomas Chapman of Local Studio, a practice known for its emphasis on sustainable urban transformation (Chapman is also David's business partner). The renovation of the original building, which was previously home to a Chinese restaurant, started in 2015, and much effort was made to preserve its integrity.
"Although it has a bit of a reputation, it is a hidden gem", says David about Brixton. He's lived here for five years and really appreciates the neighbourhood's diversity. The thinking is that 29 Chiswick will promote "passive surveillance" which will serve to decrease the activities that cause Brixton to have that aforementioned 'reputation'.
For the menu, which includes breakfast and lunch, David and his partner Mehita Iqani chose unpretentious but delicious things. In keeping with the inclusive feel of Breezeblock, prices also take into account students and others with a tight budget. There are a lot of good things to say about this place, so I'll leave tasting the food up to you. Go and visit!
More information: http://breezeblock.co.za/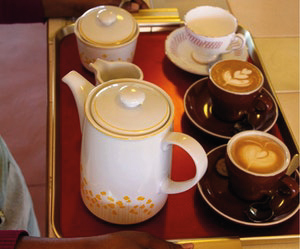 ---
Words and images by: Simone Gregor