Always look on the Brightside
The story of chef James Diack's farm-to-table ethos
CNN food and travel writer Evelyn Chen asked ten of the world's most illustrious chefs for their food-trend predictions for 2017. Refreshingly, she found that the majority, including the likes of Massimo Bottura, Gaggan Anand and Dan Barber talked about 'social responsibility', 'an end to food waste', 'sustainability', 'happier meat', 'a farm-to-table approach', 'the future being in the basics' and 'produce with a story'.
But how do we, as South Africans, see our trajectory? 
On a macro-level supermarkets have been creating neat barriers between the realities of animal treatment and consumers for years, placing meat in immaculate, cellophane packaging and eradicating whole carcasses from displays. They've been teaching the affluent to 'have their avocado and eat it'…any time of year. 'Seasonality' and 'sustainability' don't seem to matter and phrases like 'subject to availability' evoke exasperation in restaurant patrons rather than understanding.
But don't worry, there's a silver lining to this vitriol: a chef in Johannesburg who gives real meaning to the terms 'free-range', 'organic', 'sustainable', 'seasonal', 'traceable' and 'farm-to-table'. James Diack is the owner and executive chef of three, highly-successful, Johannesburg restaurants, namely: Coobs, The National and The Federal. But, what most don't know is that almost every element of every dish comes from his family farm in the Magaliesburg.
Brightside Farm is run by James' mother, Janet Diack: a force of nature with a heart of gold and a mouth like a sailor – suffice to say I liked her instantaneously. They were kind enough to invite me on a tour of their six hectare sanctuary of flourishing vegetable gardens, fruit trees and the happiest animals I've ever encountered.
Janet leads me down a tree-lined path to meet a lamb born just this morning (whilst surreptitiously eyeing my footwear to ensure I had the sense to wear boots and not high heels – luckily for me, I did). James' parents bought the farm as an escape from the city when he and his brother were still at school. It was a haven, a slice of nature where they could be wild and run amok. After leaving school James tried his hand at wine-making, but admits to "just drinking and jolling without opening a book." That 'gap year' was followed by a chef degree from ICA and then a serious lesson in long hours and hard work at a fine-dining, catering company, "I burnt out and went to Italy to recoup. That's when I fell in love with food again; proper food. I came back to SA and worked for Pomodoro for 2 years and then we built Coobs."
I had a salad of Jamie's when he was testing out recipes for the Coobs menu and I remember saying 'these vegetables are pretty sh*t' to which he replied 'well, can you do any better?' and all of this came from there. - Janet Diack
Janet gives me some leaves to try from her new wasabi rocket plants whilst we delve into the subject of 'seasonal eating'. I can tell immediately that it's a sore point for James; he explains "We're a Woolworth's generation – we've forgotten what seasonality is. Europeans are the most seasonal eaters I've ever met, and yet here in SA we've forgotten what a tomato or a melon taste like in season. There's a massive focus on fresh fruit and veg, but how fresh is something that's gassed and put in a cold-storage warehouse? I mean, apples are viable for 18 months under those conditions."
"We've forgotten what seasonality is. Europeans are the most seasonal eaters I've ever met, and yet here in SA we've forgotten what a tomato or a melon taste like in season."
We move from the garden to one of the 'outhouses' that Janet's built (aside from being a remarkable farmer, she also has an astute talent for interior décor). The whole farm is dotted with rooms and studios, all exquisitely decorated with rustic finishings, and this kitchen-cum-office is no exception. Janet checks the bread baking in the oven and stirs a giant pot of soup she's made for lunch - I ask her what's in it and she laughs, "I'm a vegetarian, but I've actually made a chicken soup; I don't usually eat any meat, but this is from the farm so I know the chickens have had a good life."
I can't believe how delicious everything tastes; James seasons the soup with freshly-squeezed lemon juice and passes me bowls of duck liver pâté, quince and rose-geranium jelly and farm butter to smear over the warm bread. Janet's explains that their team is like a family and insists that I meet her right hand man: Boytjie, who she tells me "Turned up on the farm just after we bought it and never left. Without him there would be no Brightside; he's amazing. Last night we were up delivering a lamb at 3am and I'm helping Boytjie by comforting the sheep, but he's the one who always delivers them - he's got the touch." Janet then roars with laughter as she remembers "Out comes this beautiful lamb and I immediately take off my gown and wrap it up without even thinking…and then this morning Monica, my domestic, says to me 'what happened to your gown?' - I just told her I had a rough night…"
I ask them about 'free-range', 'grass-fed' and 'organic' in SA and James explains, "There are many restaurants in Joburg who claim all that and are talking sh*t. What's also problematic is that the classification of beef as 'grass-fed' only requires that the cows be grass-fed up to a point. They can then be bulked up for the last 5th of their lives in feedlots on grain mixes containing hormone compounds like Zilmax, which has been banned from use in China, Taiwan, Russia and parts of the EU and US, because an animal can put on 5 kg a day on it. And, as long as they don't routinely vaccinate or give hormones intravenously, they can call it 'organic."
James explains that their meat is free-range and organic, but that they're sustainable, so they'll try to feed and doctor the animals naturally out of any situation, but won't let them suffer or die, "We will give an injection on rare occasions, but then those animals are taken out of the feed cycle.
"We don't even give our pigs added iron (which is common practice) because if your animals are truly free-range they should be getting it from the earth."
James pours us a final glass of wine and we come back to discussing restaurants in SA. James admits openly that he's in a privileged and unique position with the farm, "Because of the economic squeeze, chefs are doing whatever they need to do to please their customers, they don't have an ethos. This is my ethos and I'm going to be doing same thing in 15 years' time. It's not something I'm willing to compromise on – I won't ever look back and say 'remember those 5 years I was nice to animals." I can't help but smile and relish in the Diack's brazen honestly, "I'm unique in my approach because of my upbringing; I might not be the best chef in the world, but I'm one of the most conscious and I'm absolutely passionate about where my food comes from."
I might not be the best chef in the world, but I'm one of the most conscious and I'm absolutely passionate about where my food comes from."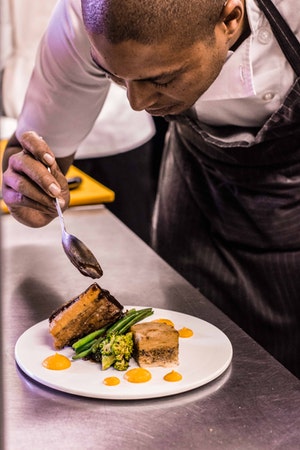 FOOTNOTES: words and images by Kate Liquorish