Dancer, choreographer and actress Stella Phumla Dlangalala explains what dance and physical theatre means to those who perform it, and those who watch it.
It's early Monday morning in Johannesburg, and in Braamfontein, the people are moving.

Cars, taxis and buses weave through the streets, and on the pavements, people jostle past one another - some with takeaway coffees, others with their heads down and their earphones in - all of them with somewhere to be. Opposite the Wits Art Museum, construction on a large plot of land has already kicked off with cranes and bulldozers rumbling forward and drawing long lines in the sand as they move. Behind the clouds, the sun is still struggling to rise.

All of this and more can be seen from Emakhaya Theatre where Stella teaches her classes.

Inside the theatre it's completely still - as if none of the morning commotion is even taking place. Dancer, choreographer, teacher, and actress Stella Phumla Dlangalala is busy warming up for a class she'll be teaching later that day.

"I tell my students to face the windows when we dance so they can be inspired by the city," she says.

Situated on the topmost floor of the University Corner building, the theatre boasts ceiling-high windows, smooth wooden floors, and is completely soundproofed - remnants of the space's former life as an Al Jazeera broadcast studio. Towards the side of the theatre, a small spiral staircase leads up to what was once Braamfontein's iconic revolving restaurant, and although the UFO-like structure still sits atop the building, it hasn't turned for many years.
"Joburg is fast, man. You don't realise how fast this place is and how quickly everything changes until you move here," says Dlangalala.
"I love the hustle and the buzz that's here. You want to work and engage especially when you are around people who are pushing you to do and be more all the time. You can't not do something with yourself in Joburg, because everyone around you is doing something so if you stop, you'll get left behind."
The energy and pace of the city she speaks about is evident in her movements. She moves deliberately, quickly, and with the utmost focus. Contemporary, hip-hop, pantsula, sbujwa, salsa and more form part of her repertoire and she moves between them without a hitch.

Normally, Dlangalala dances to music, but this morning it's only the occasional click of her fingers and the quiet counting of steps under her breath that she uses to keep time. She moves between long, expressive movements that seem to yawn with the morning, and short, sharp steps that echo throughout the studio.

"Well, that's my morning workout done and dusted!" she says, pausing for a drink of water. "And all before 9am."
For Dlangalala, dance and movement have always been a part of her life. Growing up in the small, seaside town of Port Shepstone, Kwa-Zulu Natal, she started attending local dance classes in high school.

"I had always loved dancing and performing, so I begged my mom to send me to dance classes. I just wanted to dance hip-hop and let loose, you know, but they only held modern dance classes then so it was a lot of competing and a lot of big, forced smiles when you danced."

Still, the classes allowed Dlangalala to practice her craft, and to help her break out of what she describes as a shy and reserved personality. Later, she'd attend Pietermaritzburg's UKZN where she'd take up drama as a major. It was through the movement classes they offered that Dlangalala began to learn the importance of movement as a vehicle of expression
"I thought 'Oh! You can have actual emotions when you dance, you don't have to just always be smiling!'" she explains. "I also started to see the links between dancing and acting while I was there, and how both of them can allow for you to express a lot without necessarily saying anything."
From there, Dlangalala spent a year in the Eastern Cape where she worked at Ubom! Theatre company under the guidance of Rob Murray and some guest appearances from Andrew Buckland. Dlangalala says the training that she received from Murray was the start of something that would change her life.

"I was introduced to physical theatre during my time with Ubom! I was so excited to know that one can use techniques such as movement, mime, gesture and dance to explore complex social and cultural issues. Ever since I started with physical theatre I have never stopped because I understood that the body is a powerful tool which is ideal for me because I am not good with words," she says.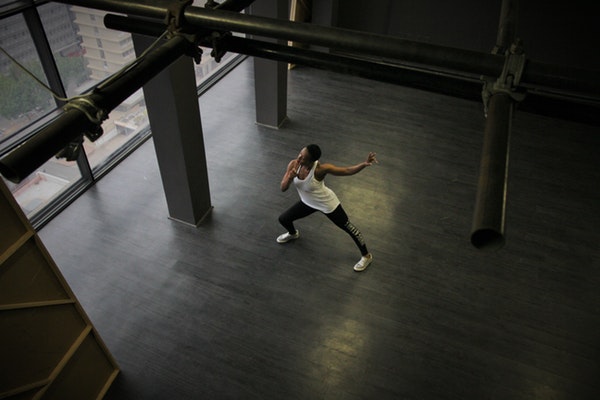 Classes, studios, and festival stages
Now in Johannesburg, Dlangalala works across all mediums of movement. She teaches, too, and sees a wide range of people coming to her to learn how to better move, communicate with their bodies, or to simply dance.

Working with students through Wits University's Drama for Life school sees her teaching dance and movement while her work at AFDA involves teaching second year students movement and introduction to physical theatre
"Everyone wants to release something when they dance," she explains.
"People always come to my classes wanting dance to help them with something. So it's always dance as assisting in some way - whether it's dance as therapy or using it for confidence. Women especially, I think, just want to feel confident with and in their bodies so that's their common theme. I hardly get men who come to my classes. I dunno why we're still there, but getting men to dance and use their bodies is a tricky thing."
Outside of theatrical dance and physical theatre classes, Dlangalala hosts evening Zumba classes at Virgin Active, morning fitness dance classes, and also books gigs as an actress for theatre and television.
A recent highlight for Dlangalala saw her performing in a
music video
for Ghanaian musician JoJo Abot, and even taking to the stage for a live performance with her at the AfroPunk festival in Johannesburg.
"It was crazy!" she says shaking her head. "I keep telling people I don't actually remember most of it, because it was just such an overwhelming experience to be there on stage in front of thousands of people all there watching you perform. It was an incredible moment."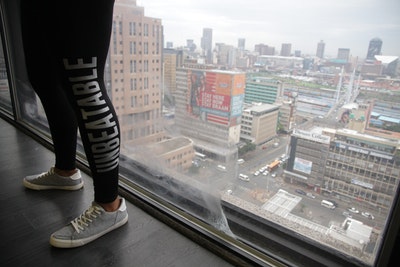 Performance as storytelling
As used to being on stage as Dlangalala is, it's never simply a performance for her. Whether she's dancing at a festival or performing a theatrical piece on stage, Dlangalala explains that performance and movement will always mean something to those who come to witness it.
"I think that people will primarily come to see someone perform because it's entertaining. You'll get people who come just to see someone dance, and you'll get people who come to see a piece of physical theatre and to engage with that performance and what it means to them," she explains.
The work Dlangalala's done with Ubom! and the work she currently does with Drama for Life seem particularly close to her heart, with much of the performances allowing for education through entertainment, often targeted to young audiences. Pieces will grapple with issues ranging from self-confidence and substance abuse to education around sexual health.

"The work that I do with Drama for Life has a huge impact on its audience," she says. "It's theatre for education and for transformation. The performances carry themes that will help to empower our audiences. After the performances we also host discussions where audience members can talk to the cast and ask them questions, too. So that element of performance - that education and transformation through performance - can really help to empower those who watch it."
Moving through the city, and dance as release
Witnessing Dlangalala perform, it's easy to see how she moves with the city, drawing from its pace and daily rhythms and channelling it through her performance. But not all experiences with the city are positive. Besides being physically tiring, she explains how the emotional element of performance and movement in the city can take its toll on you.

"When you're uncomfortable, how do you move? Because as a woman, when you're walking from Bree to Braamfontein, you're not going to be comfortable. There's bound to be a guy that's cat-calling you, someone trying to touch your ass," she says.
"So depending on what you're asked to do and express through dance and movement, it will bring you some sort of exhaustion."
She recalls working on a theatre production called Amantombazane a few years ago. Directed by Maude Sandham, the piece dealt with the heaviness of moving through the city as a woman on a daily basis. While the workshopping of the piece had her leaving rehearsals tired and drained, performing the piece before an audience had something of a cathartic element to it.

"You're presenting real life issues by playing them back to the audience through movement and at the end you feel exhausted because you've laid down so many deep emotions and so much heaviness on that stage," she says.

"It's like going to counselling, and you're coming out feeling tired or you're feeling a whole lot lighter. It depends when and why you're moving, really."
Words by: Dave Mann
Images by: Simone Gregor